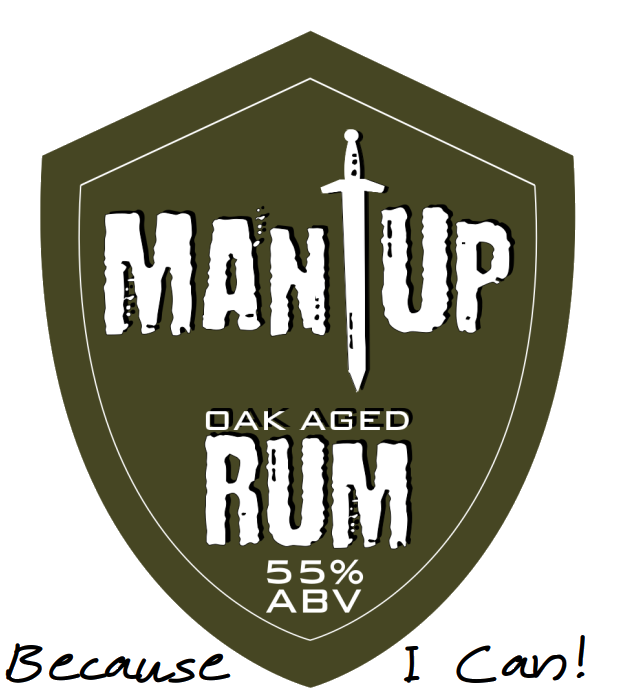 What Makes Man Up Rum Exclusive
---
Man Up Rum is an exclusive premium rum personally produced by Johan Prinsloo, the owner of Prins Distilleries (Pty)Ltd.
People who drink Man Up are people who want what we believe:

We believe that our rum must be pure and unadulterated rum that is bottled from the still, after aging, without filtration, and without any colourants, flavourants, flavour enhancers or sugars added.
We believe that patience is a core ingredient of rum making. Man Up Rum is made from pure molasses and just the fermentation process alone takes 30 days to complete, because we use natural yeasts, not special yeasts to speed up the fermentation process down to just 10 days. We are willing to patiently wait for the full 28 days to complete the process.
We believe that what comes from the still is what you get, batch by batch, not blended. Each batch is distilled, aged and then bottled separately, to ensure that each batch is actually a new rum in its own right.
"Price is what you pay. Value is what you get."
~ Warren Buffet
We may not claim that Man Up is the finest rum in the world. We may not claim that Man Up is the purest and best tasting rum in the world, but we can state that we are striving for it.
Man up is not a collectors' item, it is made to be enjoyed by people who appreciate the value and taste of a true rum. While even the labeling on the bottles are done by hand our focus is on the contents of each bottle, not the bottle or the packaging in which it is transported. We do not want to impress clients by our packing, but by our rum, Man Up Rum.
Man Up rum is not aggressively marketed and advertised, because the product sells itself. Most people who have tasted Man Up Rum always want it again. Tasting a real rum, like Man Up, sets a new standard in the taste buds.
Man Up rum is not a high volume commercial product that has to be aggressively marketed and advertised. We choose value and quality over quantity. For all our rums to be made the way they are being made, we shall always be limited in terms of the volumes we can produce.
Man Up rum is an exclusive premium rum produced in small quantities by the owner of Prins Distilleries himself to ensure consistent production of this authentic product saught after by connoisseurs. Only about one thousand bottles of Man Up rum are produced each month.
The History Behind Man Up Rum
---
To Man Up Means:
To be authentic, to be true to yourself and others; to stand up and be willing to do the uncomfortable; and to accept the outcome thereof.
Respect, to have self-respect and to treat others with the same respect you expect for yourself.
To have values and principles and to adhere to those values and principles with respect.
To be disciplined.
Prins Distilleries was founded by its CEO, Johan P.C. Prinsloo.
Being exclusively a rum drinker himself, he set out to make a real rum, a pure, unadulterated rum.
It was not an easy task. Everything inside the distillery was made by himself with his own hands. All the welding, all the steel work, all the wood work were done by himself without help, because he could not afford to hire help.
To this day Man Up rum is made by him personally, which is why the distillery can only produce a thousand bottles of Man Up rum per month.
He makes the washes himself, he personally does the distilling to make sure that everything is done according to his standards and his formula. Besides doing all the hard labour, he also does all the bottling, labeling, shipping and administration of man Up rum himself.
He set out to make the best rum he could at a price most can afford.
Imagine drinking a genuine, pure rum, made for connoisseurs
Man Up Rum is hand distilled in small batches, by direct flame, in copper pot stills, from pure molasses, aged in virgin oak and directly bottled at 55% alc./vol.
Man Up is not a blended rum. Man Up is an ORIGINAL, pure, single age rum, hand-crafted by rum lovers for rum lovers.
Man Up is an EXCLUSIVE RUM produced for export in very limited quantities.
At 55% ABV Man Up Rum is a near Navy-style rum made for discerning rum lovers who know what they want.
Man Up is an UNADULTERED rum, without any addatives, flavourants, flavour enhancers or colourants.
While Man Up rum should be sold for at least $120.00 per bottle, the founder of the distillery remains adamant that he wants Man Up to be affordable to most people and to this end it is still being sold at just $55.00 per bottle and it is only available on order directly from Prins Distilleries.
Experience it - Get in touch!
---
Thank you for showing your interest in Man Up Rum - Experience it Now!